Cart (

0

)
Recently Added

0

Item
Total

$0.00
The item you just added is unavailable. Please select another product or variant.

Cart (

0

)
Recently Added
Total $0.00
The item you just added is unavailable. Please select another product or variant.
You got questions? We got answers.
A: Tencel® lyocell is one of the softest, most environmentally friendly fabric out there in the world. Our Tencel® sheets are made from organic eucalyptus fibers, milled sustainably in Austria.
You can learn all about Tencel® and how we make our fabric here.
Q: What is the Threat Count on your sheets?
A: When it comes to fabrics like Tencel®, the threat count matters less than cotton, because of the difference in the fiber and the way it is woven. However, we made sure to weave our sheets with the highest quality fibers for the optimal softness.
All our sheets are 600 threat count - the highest TC for Tencel® products on the market right now. This guarantees you the softest, most luxurious sheets for the best night of sleep.
Q: Do Eucalypso sheets smell like eucalyptus?
A: Our sheets are completely unscented (sorry for those out there who like eucalyptus scents). However, you can always spray your sheets with Eucalyptus scents if you are missing that smell.
During the milling process, the fibers are stripped down with an organic solvent to remove any scent or toxins. Eucalypso sheets are unscented so they are non-irritating and hypoallergenic. That means no surface or fabric level irritants for anyone with sensitive skin or allergies.
Q: I have a cat and cats are allergic to eucalyptus scents - is my cat going to be okay on these sheets?
A: Your cat will absolutely be fine with our eucalyptus sheets, which are unscented (the allergens and scent is removed during the milling process). In fact, not only will your cat be okay - your cat will love our sheets! Check out this photo of one of our customer's cat, who is obsessed with Eucalypso sheets!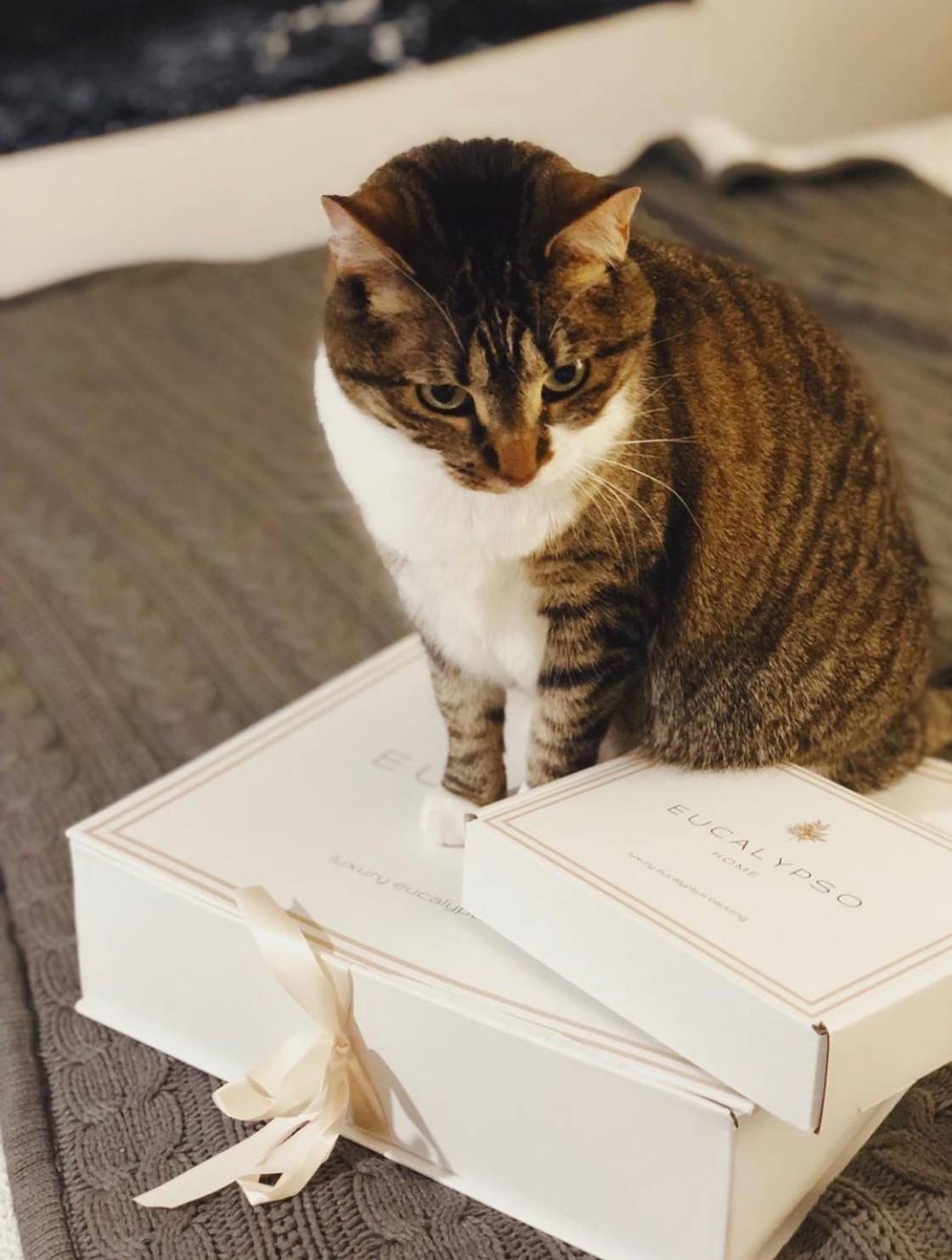 Q: How do I wash my sheets?
A: Eucalypso sheets are super low maintenance and easy to take care of. You simply wash on cold, and tumble dry on low (air drying in preferred). In fact, the sheets get softer with every wash, so they are more comfortable the longer you keep them around.
You can find the washing instructions here.
Q: How are these sheets sustainable?
A: At Eucalypso, sustainability is at the core of everything we do. Our eucalyptus sheets are made with some of the most sustainable and environmentally friendly fabrics that exists. We believe that you can live in a greener life and make the Earth a better place with conscious purchasing decisions.
You can read more about our mission statement and sustainability model here.
Q: What are the dimensions of your sheets?
Q: Are your sheets OEKO-TEX certified?
Q: Do you offer volume discounts if I purchase a lot?
Please contact us for information regarding volume orders.
 hello@eucalypsohome.com
  @eucalypsohome on IG & FB