Eucalyptus vs Linen Sheets: An In Depth Comparison of Eucalyptus and Linen Sheets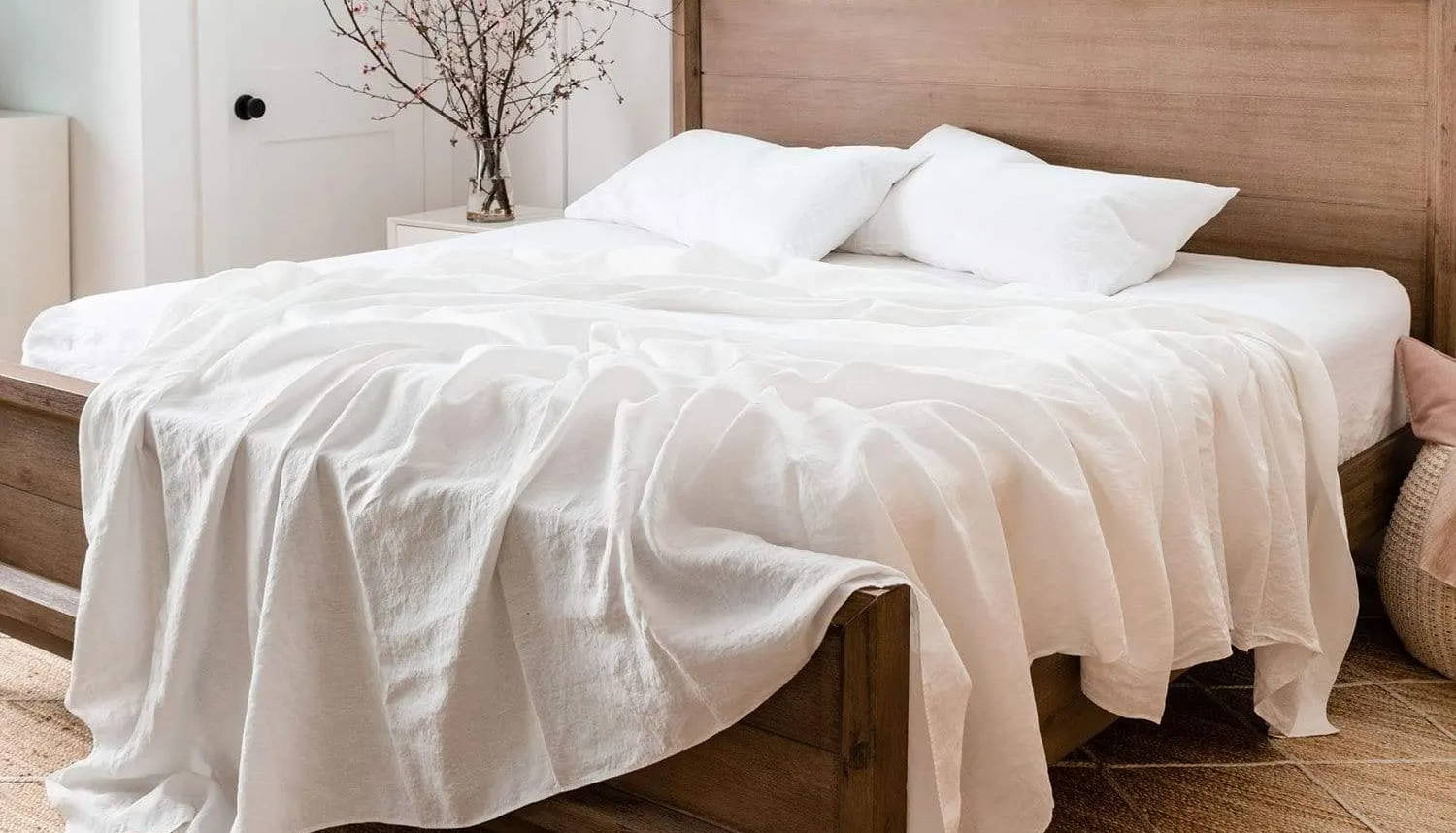 Eucalyptus vs Linen Sheets

An In Depth Comparison of Eucalyptus and Linen Sheets

Author Britney Guo / Published: Jun-13-2022
So maybe you've already done some digging, and you know cotton is not going to keep you cool this summer, or that bamboo sheets are too good to be true. As you near the end of your hunt for the perfect cooling sheet for the hot summers and seasons following, you might wonder: What about linen sheets? How do linen sheets stack up in bed against eucalyptus sheets?
Linen has become a very popular summer wardrobe staple as it shields from the unforgiving summer heat, and keeps us looking and feeling fresh. Naturally, we have to wonder if linen is just as heavenly in bed.
We've created the following guide to help YOU pick the best sheets. Together we will do a deep dive into what sets linen and eucalyptus sheets apart from each other, and the benefits (and drawbacks) of each. We'll compare each cooling sheet from composition to feeling, cooling ability, benefits to our skin, durability, and finally environmental impact. Stick around if you want to see whether linen or eucalyptus will be crowned the best sheet for summer.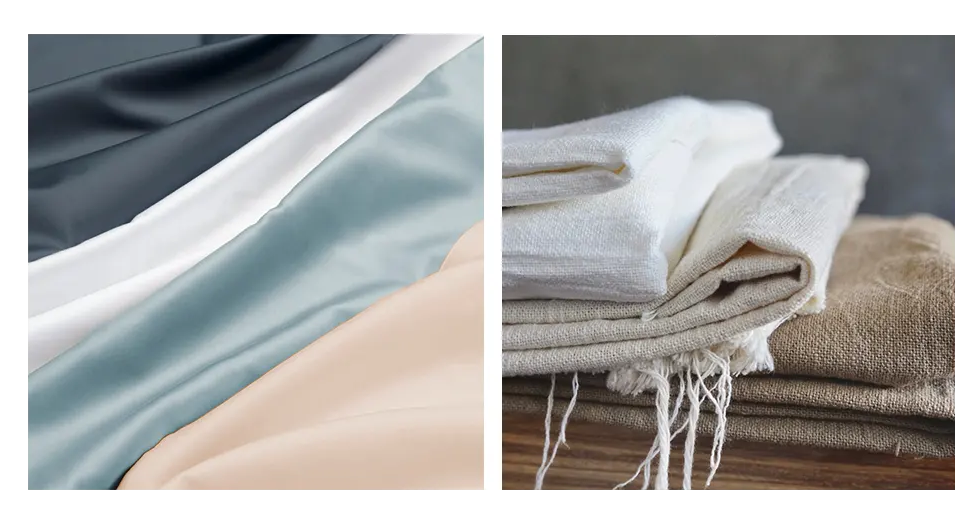 Eucalyptus & Linen Sheets Defined
Both eucalyptus and linen sheets vary across a spectrum in composition. Often, you'll see marketing such as 'eucalyptus-blend' or 'linen-blend', however, these sheets are misleading as fabric blends will reduce the cooling, moisture-wicking, and hypoallergenic properties of pure eucalyptus or linen sheets.
"Eucalyptus sheets" are made from sustainably-sourced eucalyptus trees whose pulp is spun into fiber called lyocell. They most commonly come in the form of Eucalyptus lyocell (lyocell made from eucalyptus fibers) or TENCEL lyocell (lyocell made from sustainable wood sources including eucalyptus wood pulp.) More specifically, TENCEL™ certified lyocell is one of the most sustainable fabrics in modern technology.
At Eucalypso, all our products are made from 100% TENCEL™ lyocell made from sustainable wood sources like eucalyptus. We use authentic certified TENCEL™ manufactured by Lenzing Fibers milled from Austria, so rest easy that they are the highest quality sheets on the market.
Linen sheets are made of cellulose fibers from the flax plant, these fibers are what produce the characteristic fabric dotted with knots, or "slubs." When buying linen sheets, clothing, or other products, it's important to look for organic 100% linen which is more sustainable and less chemically processed. A word of caution: even linen sheets labeled organic can be misleading, check that the sheets pass the Global Organic Textile Standard (GOTS).
Sleeping in TENCEL™ sheets feels like always being on the cool side of the pillow—pure bliss. Eucalyptus sheets are smooth and silky with a texture comparable to the love child of cotton and silk. These sheets are also super breathable, so they're perfect for the sleeper who enjoys the feeling of a light cooling sheet. However, sleepers beware if you prefer the feeling of thicker, firmer sheets like hotel cotton.
Linen on the other hand is not naturally cool to the touch but is still light and breathable, a great cooling sheet for hot sleepers. Unlike eucalyptus sheets, linen sheets may feel scruffy right out of the packaging due to its unique granular feel. Rest assured that if you're in it for the long run, linen sheets will soften over time with repeated washings.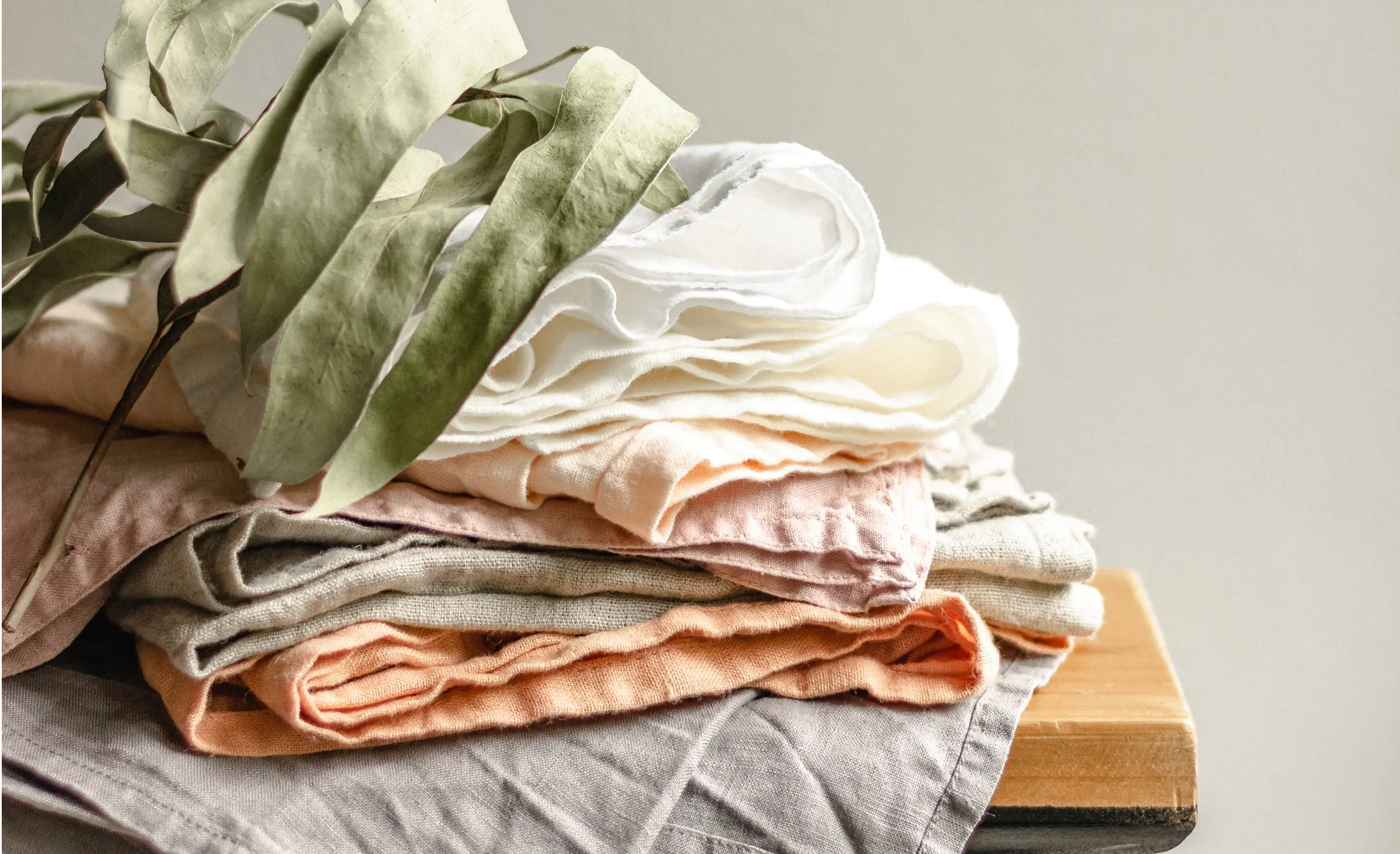 Both TENCEL™ sheets and 100% linen sheets are naturally temperature-regulating, so they are great for hot sleepers. As you sleep, these cooling sheets wick the excess moisture (sweat) off your body, keeping you comfortable throughout the heat.
Because of their cooling properties, certified eucalyptus and linen sheets are ideal for hot summers and sleepers living in hot areas year-round. However, don't be disheartened if you're under the impression that these two lovely cooling sheets seem like they'd only get to be put out for use when it's hot. The weave of these sheets keeps you cool in the heat, but can also keep you warm in the cold. Just be cautious that both sheets feel light across the body, so thick, crunchy sheet-lovers beware.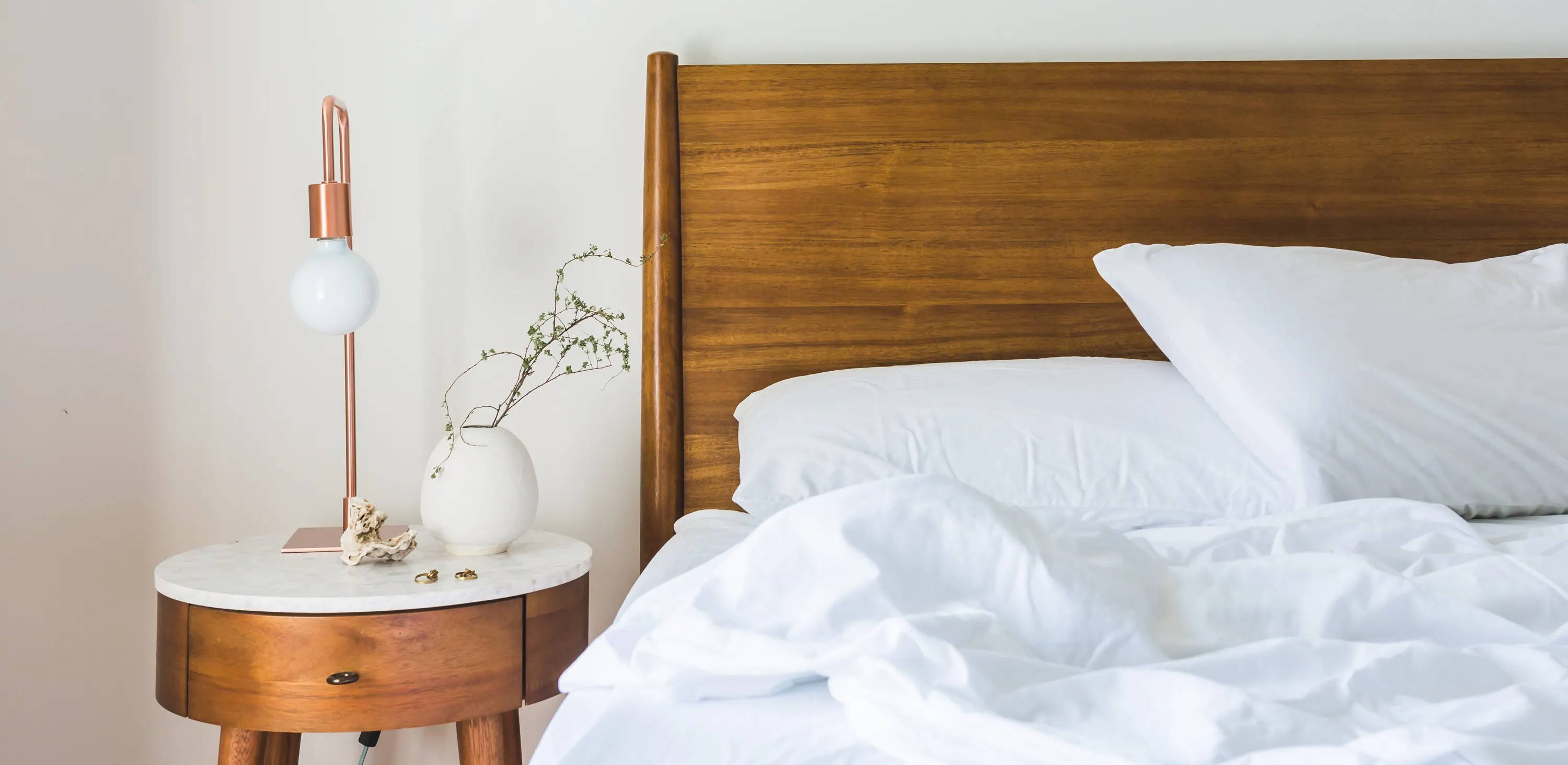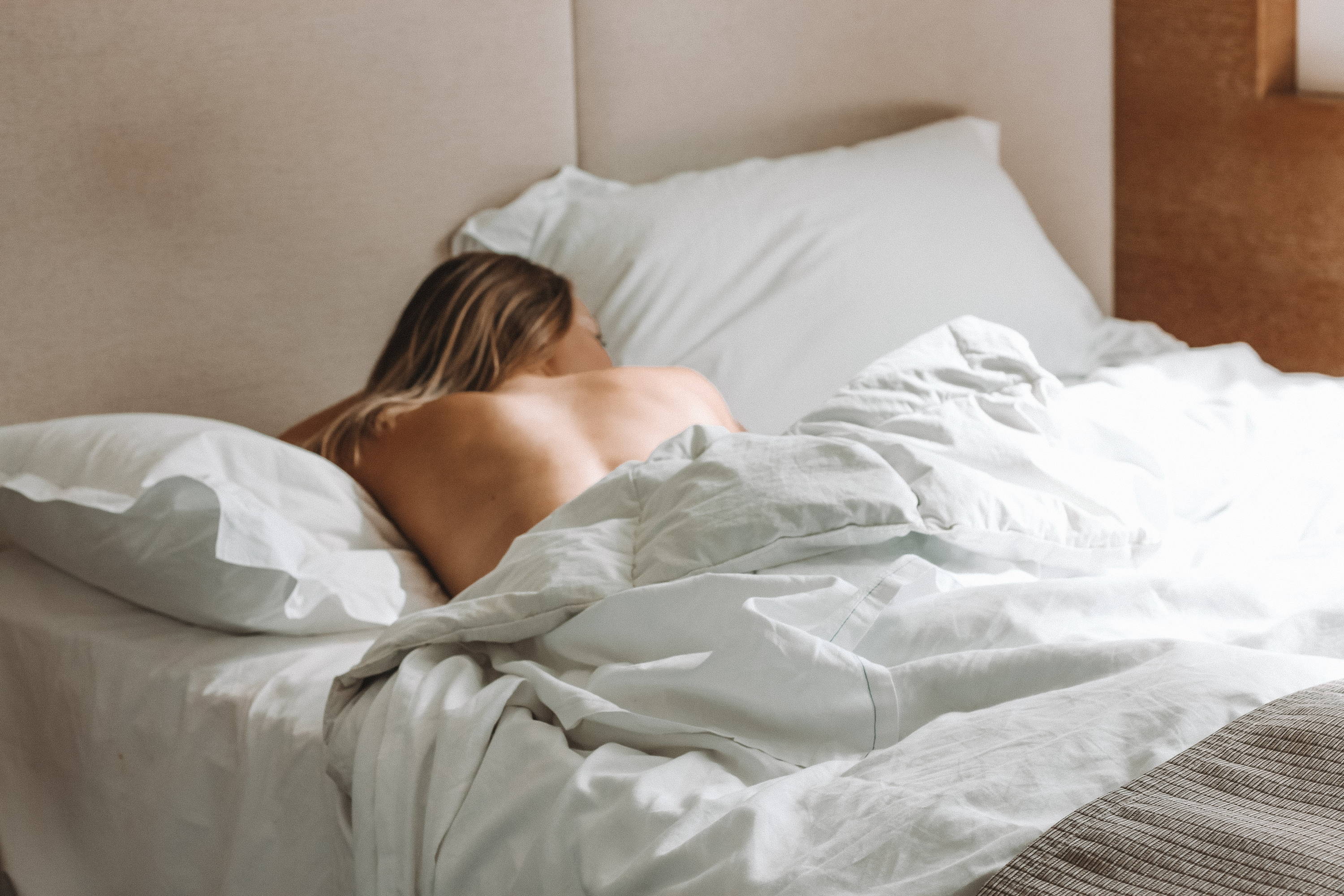 Because linen and eucalyptus sheets wick moisture and dry out faster than cotton sheets, they don't give bacteria the time of day to build up. These sheets will be your best friend as they keep you cool and dry, and help to prevent those pesky acne breakouts. If you've been sleeping on cotton sheets with sensitive skin, it is time to make the switch!
Not only do eucalyptus sheets naturally stay clean, they are actually beneficial for the skin—with similar properties to silk in helping combat acne breakouts and wrinkles. The cool, smooth, and silky eucalyptus sheet will be your guardian angel, making sure you look and feel your best every morning.
Eucalypso's beloved cooling sheets made from 100% TENCEL lyocell are perfect for sleepers with sensitive skin as they are wonderfully hypoallergenic, non-toxic, antibacterial, and antifungal. Linen sheets fundamentally share the same properties, but our word of caution is to thoroughly research the plethora of linen sheets on the market before committing to your future night time partner.
TENCEL™ has dedicated hundreds of years to the practice of making high quality fabrics that are durable and comfortable. When buying "eucalyptus" sheets, it's super important to look for TENCEL™ certified sheets as a badge of quality, durable sheets that will last a LIFETIME. When Eucalypso sheets are washed, they are unlikely to pill or shrink, and as they don't breed bacteria—these sheets don't have to be washed as often as cotton sheets. That means less time doing laundry, and more time in bed. The same can be said for antibacterial linen sheets, but you'll see that you might actually want to wash those sheets more!
Linen is naturally strong and retains its strength and durability even when loosely woven, as is often the case with its long thick fibers which are difficult to weave together. Again, the magic of linen comes from its softening with washes and wear. Stay away from hot water when washing to avoid shrinking, and know that linen sheets are easily wrinkled since flax fibers are not very elastic. In the end, the look of sheets is purely a personal preference, and linen sheets may be great if you like the crumpled aesthetic.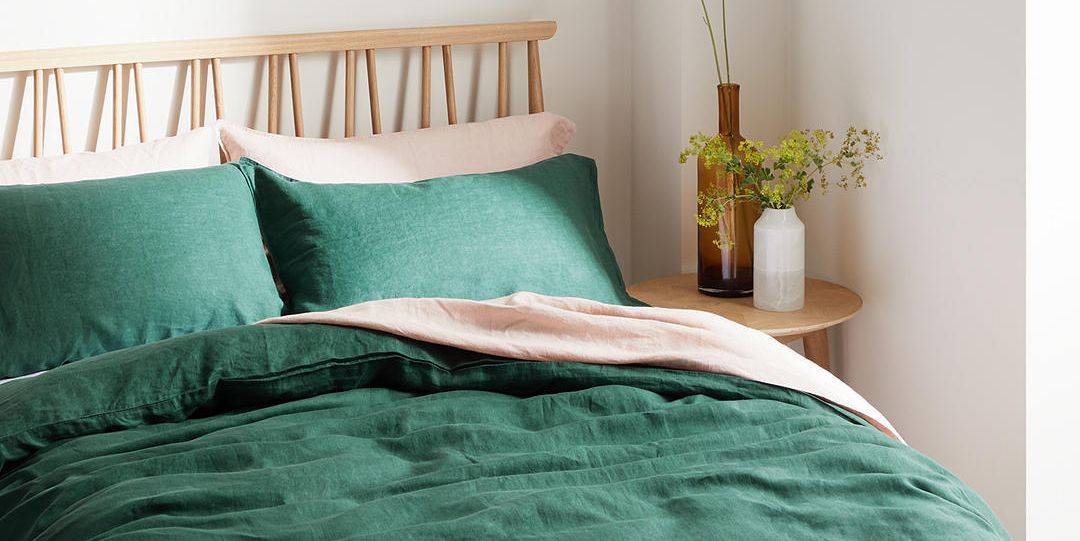 Out of respect for our Mother Nature, eco-friendly is definitely the move, and what better way to start than in the bedroom. In the day, we get to actively make eco-conscious choices but what about at night when we're asleep? Sustainability doesn't have to end after your nightly routine! Choose eco-friendly bedding to spend your nights in, and bring sustainability into the after-hours.
TENCEL™ sheets are made in a closed-loop production process, which uses water and one organic solvent to turn wood pulp into fibers. More than 99% of the water and solvent that are used to produce TENCEL™ sheets are reused and recycled, making it one of the most environmentally friendly fabrics in the world. Eucalypso bedding is proudly made of 100% TENCEL™ lyocell from sustainable wood sources including eucalyptus wood pulp. We also make sure to make all our products in small batches to prevent environmental degradation, a practice often overlooked by other companies.
100% flax linen is a sustainable material that lasts long and is biodegradable, so they can be returned to the earth when their time with you comes to an end. Linen sheets are also considered to be environmentally friendly because they are made from flax seeds, and they last longer than most other sheets. Although linen sheets are eco-friendly, they remain a luxury fabric sold at a high price because of the painstaking process of preparing the flax fibers to be spun into fabric.
Overall, either TENCEL™ or 100% flax is a significantly more eco-friendly sheet than cotton sheets which require a huge amount of water, insecticides, and pesticides to grow the crop, and unrecyclable toxic solvents in the production process. For a 1/10 of the amount of water needed to grow and make cotton sheets, Eucalypso makes 10x more eucalyptus sheets!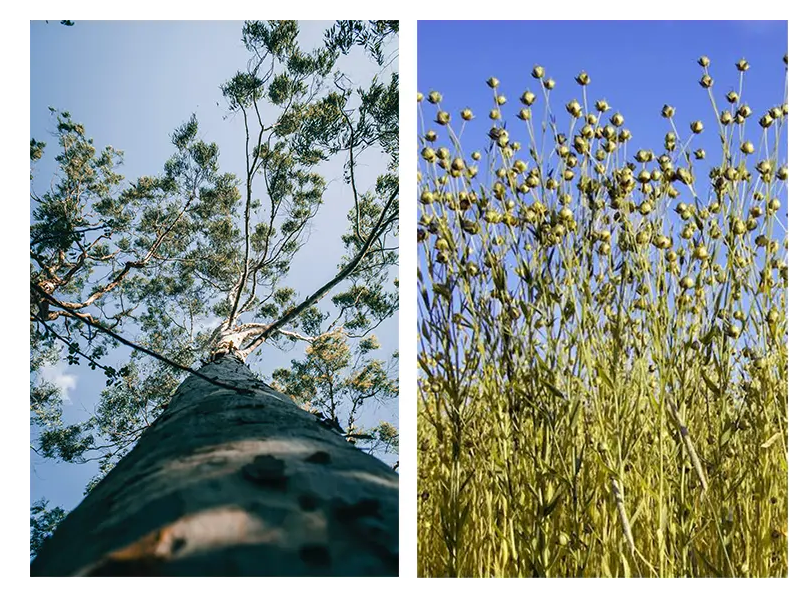 As with any luxury commodity, TENCEL™ and 100% flax linen sheets are an investment that will give you many years of use with the proper TLC. When deciding, keep in mind that you will never have the smoothness you may be used to with linen, versus eucalyptus sheets that deliver that familiar smooth feeling cotton sheets provide. However, it all comes down to personal preference, so if you like the more natural sheet feeling, try out a set of linen sheets. Likewise, if you're a sucker for the smooth and silky sheet feeling, take a chance with Eucalypso.
---