Cart (

0

)
Recently Added

0

Item
Total

$0.00
The item you just added is unavailable. Please select another product or variant.

Cart (

0

)
Recently Added
Total $0.00
The item you just added is unavailable. Please select another product or variant.
Fall asleep to the world's softest eucalyptus sheets, guaranteed. Made with premium 100% TENCEL™ Lyocell fibers from organic eucalyptus.
Exceptionally soft and silky, perfectly suited for sensitive skin. Hypoallergenic so it is gentle on your skin.
Naturally absorbs and wicks away moisture 70% better than cotton, keeping you comfortable while you sleep.
Naturally temperated regulating with enhanced breathability to keep your skin feeling cool and dry.
Each set includes 1 flat sheet, 1 fitted sheet, and 2 pillowcases. King sets come with king pillowcases, twin sets come with 1 standard pillowcase.
Fits well on both regular and deep pocket mattresses up to 15".
Easy to wash and won't pill or fade with washing. See our Sizing Guide and Washing Instructions.
DESIGNED FOR THE PERFECT NIGHT OF SLEEP
Through research and innovation, we found the most comfortable bedding using the newest fabric technology. The result - bedding that is softer, gentler, cooler, and cleaner.
Find out why Eucalypso's organic eucalyptus sheets are what dreams are made of...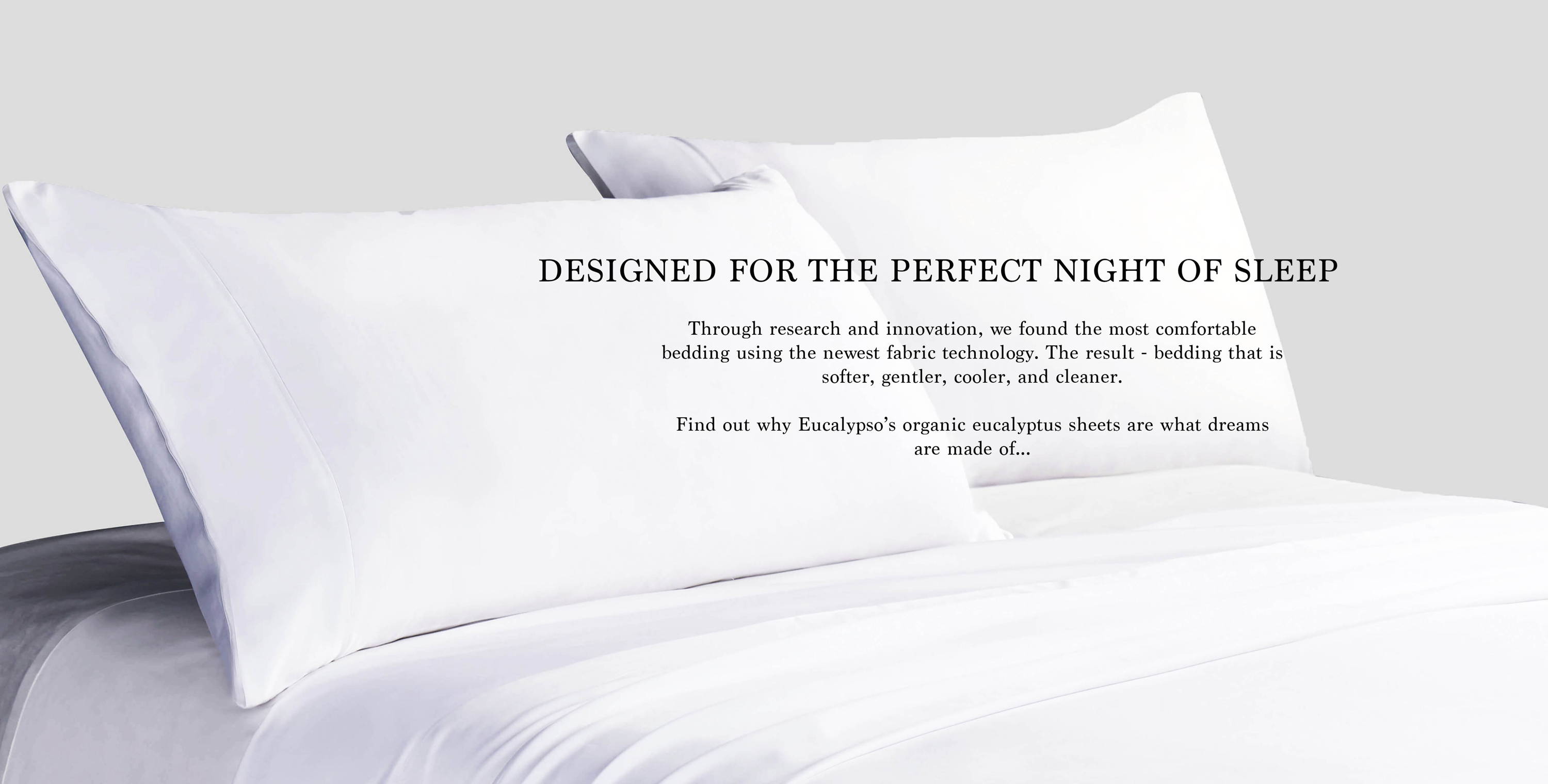 EUCALYPTUS IN SHEETS?
Eucalypso sheets are made from TENCEL™ Lyocell from organic eucalyptus trees. We use authentic certified Lenzing Tencel® milled from Austria to we guarantee you the best in quality.
In order to preserve our planet's resources, Eucalypso sheets are cultivated using 10x less water and are milled in a zero-footprint, Oeko-tex certified environment.
We create our sheets in an environmentally responsible, closed loop production process, which recycles 99.9% of water and solvents used in the creation process.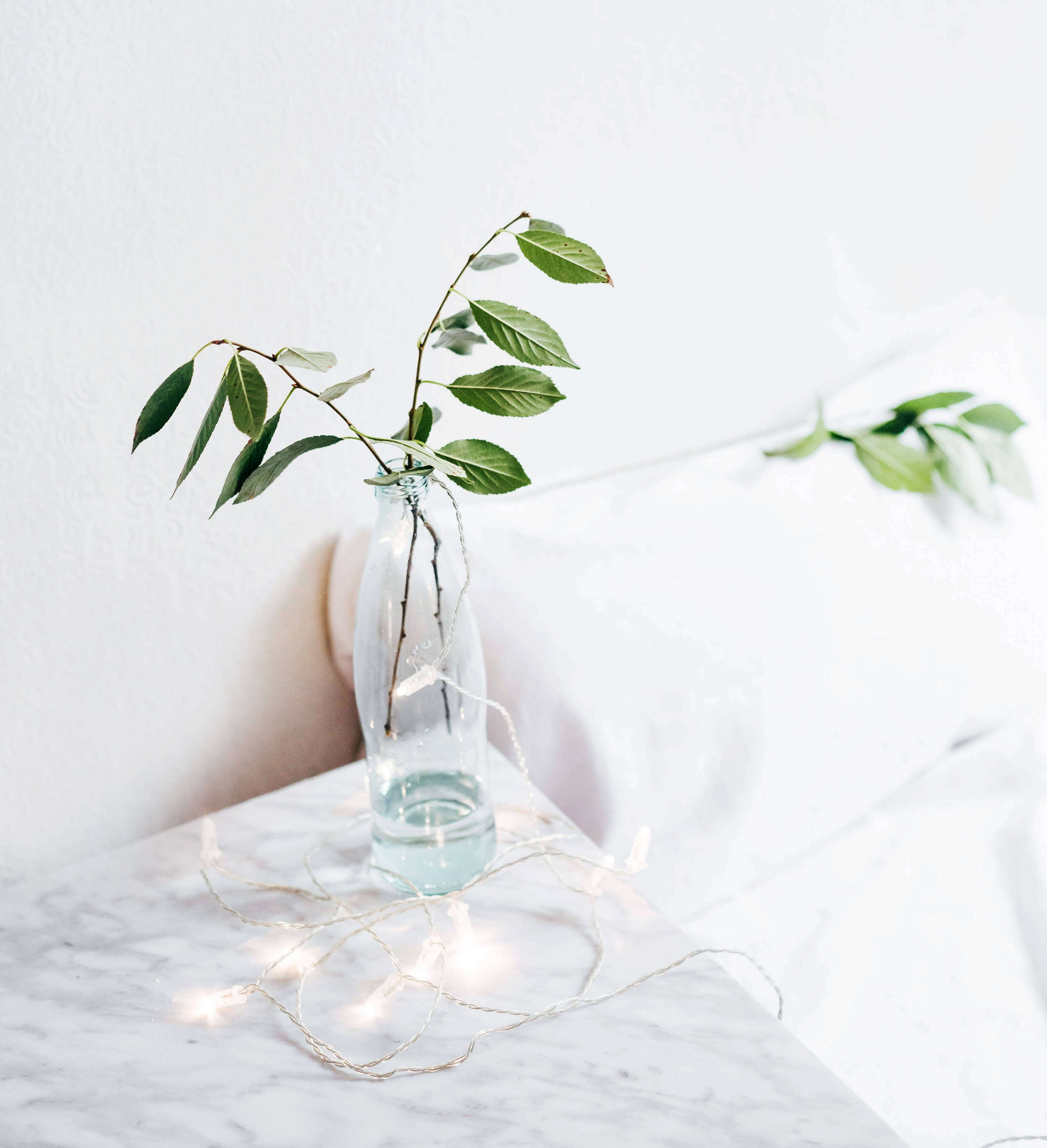 LUXURIOUSLY SOFT AND GENTLE
We take Beauty Sleep very seriously. Eucalypso's hypoallergentic sheets are ultra soft and super gentle on the skin to prevent breakouts.
Our sheets are non-irritating or harsh, only feathery softness. With our Eco Soft technology, the bedding creates a pleasant, almost soothing cool feeling and prevents any irritation on the skin, making it a great choice for anyone with any sensitivity.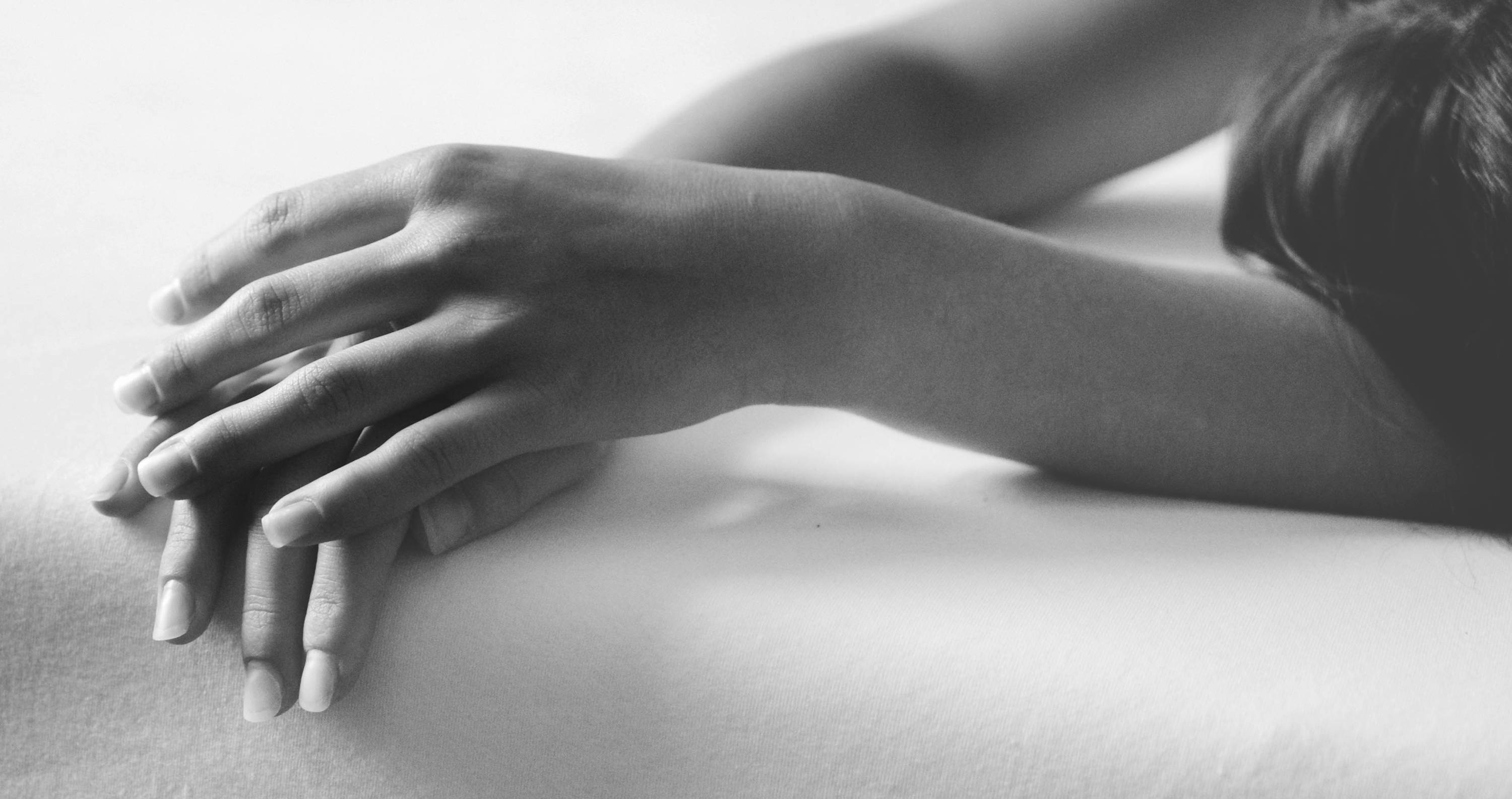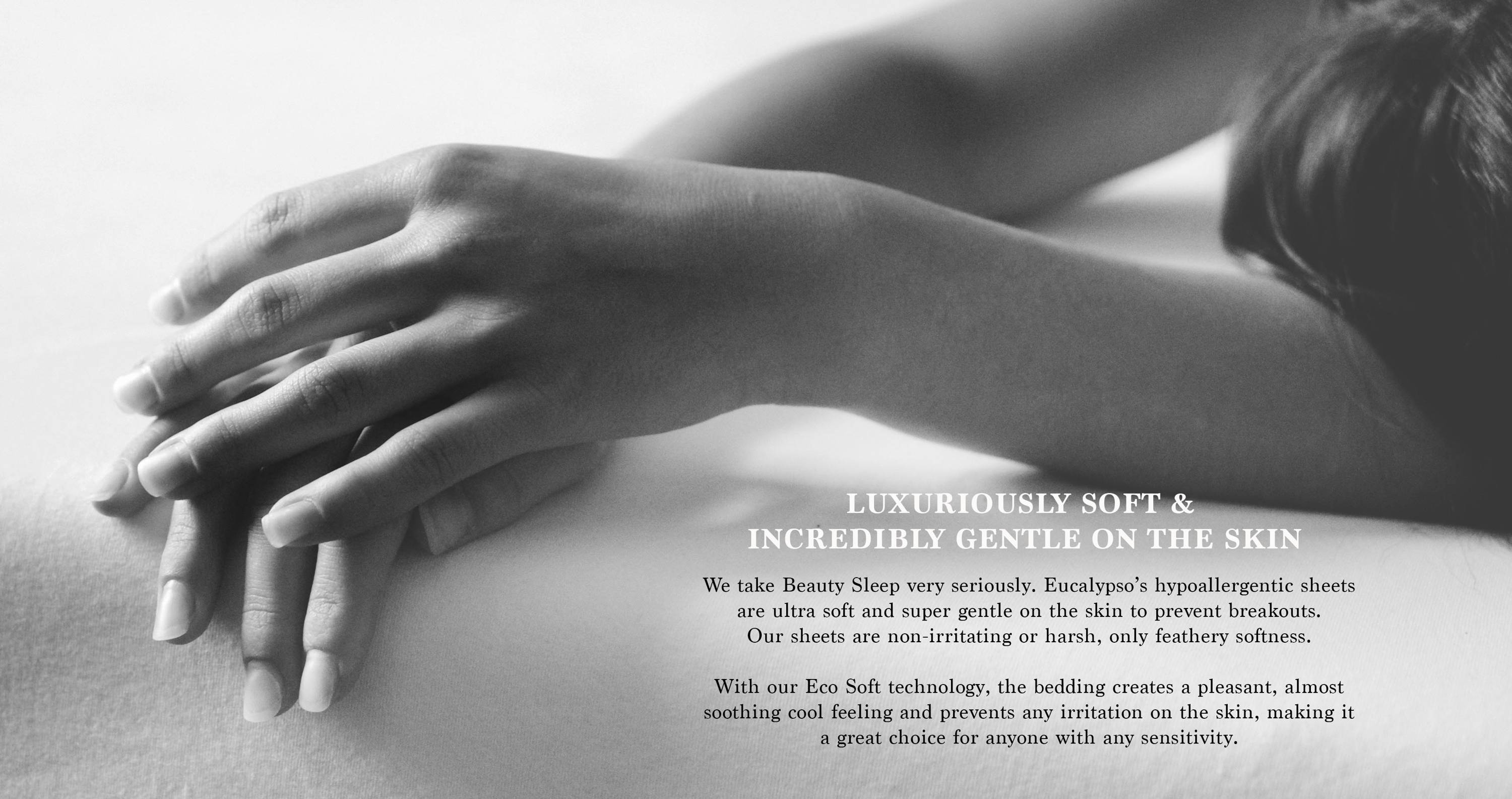 COOL AND BREATHABLE
HOW SHEET SHOULD BE
You shouldn't be waking up drenched in sweat; nor should you be so cold you are rolled up in your covers burrito style. Eucalypso bedding is naturally temperature regulating, so no more night sweats or shivers.
Tencel® fibers are the best when it comes to moisture absorption, absorbing moisture 70% more effectively than cotton. They are highly breathable, absorbs moisture completely and naturally, and then release it back to the atmosphere, allowing you to stay cool on a hot summer day.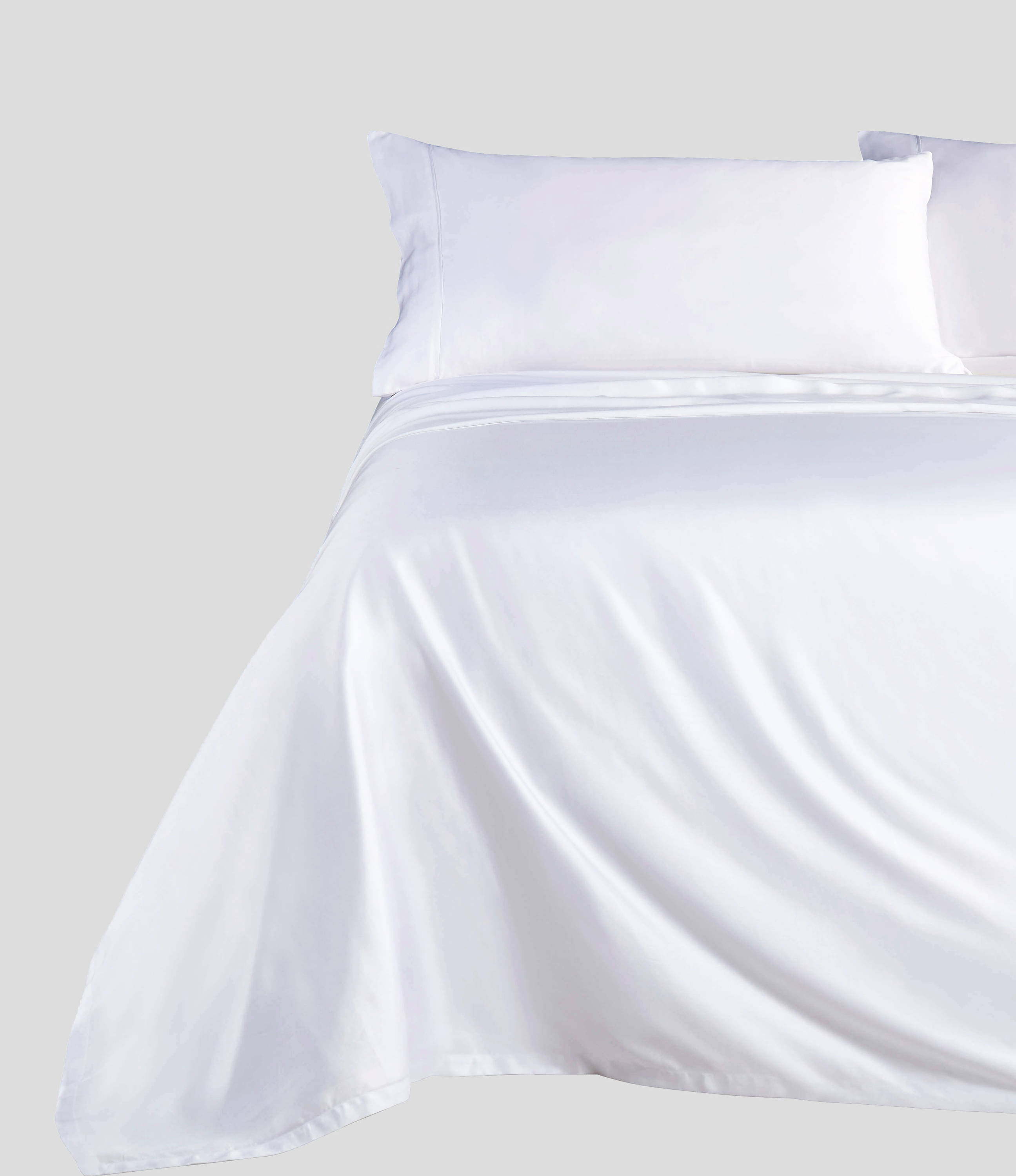 ALWAYS BREATHABLE. ALWAYS SOFT.
OUR PROMISE
Eucalypso sheets are 3x more breathable than cotton sheets. Our bedding's fibers naturally manage the transportation of moisture, enhancing fabrics by keeping your skin feeling pleasantly comfortable. The fibers are structured to regulate the absorption and release of moisture, thus creating a refreshingly cooling sensation on your skin. Our sheets also retain their exquisite softness even after repeated washing. Just like your favorite sweater, it gets softer and more comfortable with time, which never goes away.